He didn't go to bed until midnight the night before. Then, because everyone else was doing it, he woke up at 6:30. Dinner fell right at the begining of nap, so he didn't get one of those, either. Oh Boy was he grumpy! and Tired!!! He wet his pants THREE times (which is often a sign of exhaustion for the poor little guy).
On days like today, you really have to stop and realize what Thanksgiving is all about. Family (Who loves you and puts up with your cranky toddler without complaint) Food (even if it's consumption leads you to a coma) Memories (racing around the kitchen to get everything done, running into others in the process).
Ok, so maybe it wasn't HIM who was grumpy...
And it sure makes you grateful for the 364 OTHER days we DON'T get up early to bake a turkey.
So Happy Thanksgiving all! Even if it is a grumpy one!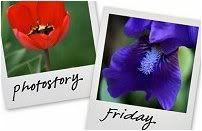 Hosted by Cecily